Power Distribution Panel
PDP-60KW
Capabilities and Features
The PD Power Systems 60KW PDP is designed to accept power at 120/208 VAC, 3-phase, utilizing 200 amp Power connectors. Power is then distributed at 120/208 VAC 3-phase and 120 VAC 1-phase.
The PDPs are used to provide power to equipment requiring 120/208 VAC electrical power.
Conforms to the NEC for Outdoor Use
The circuit breakers protect the cables from excessive current flow. The equipment is designed for safe operation and conforms to the NEC for outfoor use.
Input: The 60kW PDP has one 200-amp, 4-pole, 5-wire connector. The input connector us a MIL-C-229922 male receptacle labeled J1 on the enclosure. The PDP60 is protected by an appropriately sized main circuit breaker.
Output: The PDP60 has four (4) at 60-amp, 120/208 VAC, 3-phase receptacles.
The output connector and receptacles are protected by appropriately sized circuit breakers.
Circuit Breakers: The circuit breakers are thermal magnetic type. The 3-phase circuit breakers are 3-pole, molded case, common trip with a single operating toggle.
The 1-phase circuit breakers are single pole, molded-case, with a single operating toggle.
The operating mechanism for all circuit breakers is over center, trip free operation, providing quick-make and quick-break operation.
When the circuit breaker is tripped, the operating toggle takes a position between ON and OFF.
All 1-phase circuit breakers are GFCI rated and provide a PUSH TO TEST function.
CHARACTERISTICS
Manufacturer: PD Power Systems, LLC
Part No.: PS-PDP60
NSN: 6110-01-237-4637
Dimensions:
Length (in.): 23 • Width (in.): 18 • Height (in.): 18 • Weight (lbs.): 38
Temperature Range:
Operating Temperature: -25°F to +125°F • Storage Temperature: -65°F to +150°F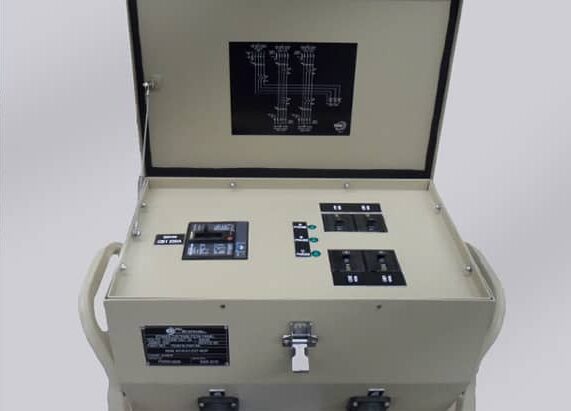 Worldwide service and support
PD Power Systems provides support for military products around the world:
Support at various existing and future locations of the U.S. military around the globe.
Commissioning and maintenance support services globally
Critical parts inventory at critical locations and around the world
Support for engineering and technical data for all products and services
Program Management
Having fielded thousands of units throughout the globe, PD Power Systems has a successful record of power distribution and power generation equipment with the United States military.
For more information, please contact:
Mazen Badr
President and COO
Office: 703-778-3515
Mobile: 703-623-6183
Email: [email protected]
Online: Contact Inquiry Form