Deployable Power
Generation and Distribution
System (DPGDS)
Reliable power products for military applications
PD Power Systems (PDPS) uses high-end software to provide rapid and innovative product solutions as an integrator of power generation/distribution equipment, hardware/software, as well as being well-versed in developing integrated solutions of complex Commercial-off-the shelf (COTS) products that meet military requirements. Core competencies span Systems Engineering and Integration, Technology Insertion, Dynamic Simulation, and Validation/Verification. PDPS offers comprehensive logistics life cycle planning/execution in Integrated Logistics Support (ILS), training, technical manuals, documentation, configuration management, and maintenance.
PDPS also provides overall Program Management, systems integration, Systems Engineering, Integrated Logistics Support (ILS), Quality Assurance, Technical Manuals (TMs)/Electronic Technical Manuals (ETMs), Technical Data Packages (TDP), Configuration Management (CM) and Warranty Management.
Designed to meet your performance requirements
The Recapitalized MEP-PU-810C/D units are engineered and built to meet and exceed the requirements specified by the U.S. Army, and other future users. PD Power Systems was awarded the contract to recapitalize aged and out of service power units to increase its life utility for the next several years (20 years).
MEP-PU-810C/D features
PD Power's MEP-PU-810C model power unit is mounted on a two-axle wagon-style chassis equipped with surge actuated hydraulic brakes, a lunette-ring hitch tow bar, and is designed for low speed mobility (up to 20mph), towed by vehicles without trailer brake controllers.
PD Power's MEP-PU-810D model power unit is mounted on a two-axle chassis, equipped with air actuated brakes, a 5th wheel kingpin hitch, and is compliant for the U.S. Department of Transportation (DOT) transport at highway speeds (up to 55mph), towed by tractor/trailer vehicles.
CHARACTERISTICS
Both models have completed rigorous testing and validation at Aberdeen Testing Center (ATC), where the following abilities have been proven:
750 hours Mean Time Between Essential Function Failture (MTBEFF) with an 80% lower confidence limit
Prime Power Rating: 800kW ISO 8528-1 at JP-8 and 4,000 ft
Operating temperature range: -50°F to 135°F at all relative humidity
Certified for air transport on U.S. Air Force C-5 and C-17 aircrafts
EMC radiated emission and susceptability per MIL-STD-461F
Power Quality IAW MIL-STD 1332 Utiltiy Class A
4160/3800 Volt, 3 phase, 0.8 PF, 4-wire distribution
Capable of paralleling up to 16 units
Sound attenuated 85dBA at 7 meters
HEMP protected per MIL-STD-2169
MEP-PU-810C
Length: 300.2 inches
Width: 99 inches
Height: 96.9 inches
Weight: 31,660 lbs.
MEP-PU-810D
Length: 288.7 inches
Width: 98.4 inches
Height: 116.2 inches
Weight: 34,560 lbs.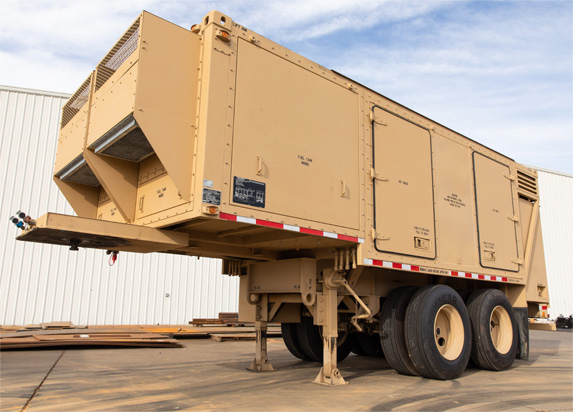 Worldwide service and support
PD Power Systems provides support for military products around the world:
Support at various existing and future locations of the U.S. military around the globe.
Commissioning and maintenance support services globally
Critical parts inventory at critical locations and around the world
Support for engineering and technical data for all products and services
Program Management
Having fielded thousands of units throughout the globe, PD Power Systems has a successful record of power distribution and power generation equipment with the United States military.
For more information, please contact:
Mazen Badr
President and COO
Office: 703-778-3515
Mobile: 703-623-6183
Email: [email protected]
Online: Contact Inquiry Form