Who we are
PD Power Systems, LLC (PDPS), formerly the Power Systems Division of PD Systems, Inc., is a Veteran Owned Small Business (VOSB) employing management and engineering personnel with decades of experience building military power generation equipment.
Our approach
We approach all opportunities as a collaborative effort that leverages our overall power generation and distribution design and system integration experience.
Our team is exceptionally qualified and experienced to meet and exceed the requirements of all branches of the military with design, development, testing, production, and logistics support.
Rapid and innovative solutions
PD Power Systems uses high-end software to provide rapid and innovation product solutions as an integrator of power generation/distribution equipment, hardware/software, as well as being well-versed in developing integrated
solutions of complex Commercial-Off-the-Shelf (COTS) products that meet military requirements.
Core competencies
Core competencies span Systems Engineering and Integration,
Technology Insertion, Dynamic Simulation, and Validation/Verification.
We offer comprehensive logistics life cycle planning/execution in the following areas.
Integrated Logistics Support (ILS)
Training
Technical manuals
Technical data packages
Documentation
Configuration management
Warranty management
Maintenance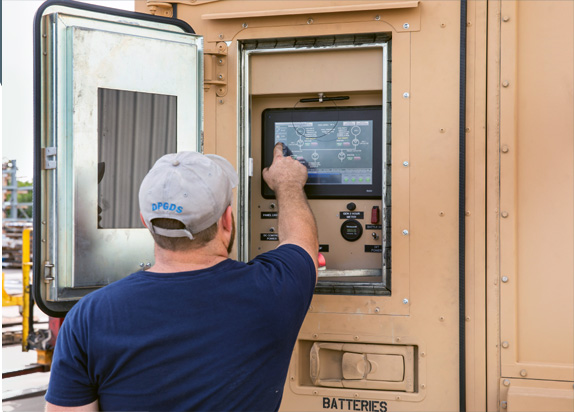 Worldwide service and support
PD Power Systems provides support for military products around the world:
Support at various existing and future locations of the U.S. military around the globe.
Commissioning and maintenance support services globally
Critical parts inventory at critical locations and around the world
Support for engineering and technical data for all products and services
Program Management
Having fielded thousands of units throughout the globe, PD Power Systems has a successful record of power distribution and power generation equipment with the United States military.
For more information, please contact:
Mazen Badr
President and COO
Office: 703-778-3515
Mobile: 703-623-6183
Email: [email protected]
Online: Contact Inquiry Form